Below is a collection of brand new motivational and inspirational good morning quotes, images and messages that will give you a new perspective on life on on your day. They serves as a beautiful reminder that every morning is a new day and another chance of living your life. Sendyour loved ones one of these good morning messages and you will be loved back. Try to wake up and attack the day with your enthusiasm and smile. Make people happy around you when you wake up and karma will treat you well. Carpe Diem, every morning. Good Morning beautiful people!
Inspirational Good Morning Quotes and Wishes
1. "Set a goal that make you want to jump out of bed in the morning."

If you have something to wake-up to in the morning it will be much easier to wake up.
2. "When you start each day with a grateful heart…"

If you are thankful and grateful every morning as you woke up, happiness would come out within you.
3. "I opened two gifts this morning. They were my eyes."

26
Everybody should be grateful for being alive and healthy.
4. "Some days you just have to create your own sunshine"

14

5. "You will never have this day again so make it count!"
Every day is a new day. Don't live in the past. Enjoy the now and make it count!
6. "Rise up, start fresh see the bright opportunity in each day"

Rise up because every day God always give us something new.
7. "Smile at strangers, slow down, say thank you, laugh and give compliments today."

15
When you are good to others you will receive it back. When you feel good about yourself you will shine in other people's eyes. Give and don't expect anything back. You will be astonished.
8. "Having a rough morning? Feel your heart. That's your purpose of being alive."

If you feel down, always remember that for as long as your heart is still beating, you still have a purpose in this life.
9. "Happy thoughts are the only cure for a sleepy morning.. and I feel the happiest when I think about you!"
You can change you mood instantly by thinking of the happy things in life.
10. "Everyday may not be good, but there is something good in every day"

We may have a bad day but there is something good in every day, and you do you know what's that? It is waking up and still having the chance to live.
11. "Don't look back, you're not going that way."
You will not gain anything by looking back. What happened, happened. Look forward and move on.
12. "Each good morning we are born again, what we do today is what matters most"

13

It is because every day is a new chance to correct our mistakes and every new day is a new beginning.
13. "Focus on the good."
Embrace the good in life and good will come back.
14. "Let your soul expand, let your heart reach out to others…"

Make every day as an opportunity to serve others and give others happiness and joy. What you give is what you will receive, and sometimes what we receive is more than what we give.
15. "For you kiss me, my heart for you, I love you. Good Morning!"
16. "The minute you think of giving up.."
There are times that you just want to give up on something, however if you have held it up for a long time it must be something that is truly worth holding on.
17. "Choose to Shine"
The best option in life is to choose to shine and make others shine around you.
18. "Thank God for another day. Don't waste it!"

Each and every one of us will face death, so don't waste your life and be thankful for another opportunity and another chance to live.
19. "Loneliness is a special enjoyment when chosen by ourself.. but hard to disgest when gifted by others..Good Morning!"
The morning is the most difficult time when you feel lonely because you miss someone. You will make it through and choose to be by yourself and then loneliness is expierenced very differently.
20. "When you arise in the morning, think of what a precious privilege it is to be alive…"

Think of waking up every day as a privilege to love, to help and to enjoy life.
21. "I love the smell of possibility in the morning."
Every morning is a new day full of possibilities.. with a cup of coffee;)
22. "Wake up with determination, go to bed with satisfaction"

Determination gives satisfaction and results.
23. "Good Morning Sunshine!"
24. "Stop thinking of what could go wrong and start thinking of what could go right"
Take away negative thoughts and change it to positive thoughts. As what they said, a positive thought attracts positive things.
25. "Each morning we are born again. What we do today is what matters the most."
If you focus too much on what is in front of you, you will accomplish nothing. What we do today is what matters.
26. "Wake up every morning with the thought that something wonderful is about to happen."

As what being mentioned earlier, a positive thought attracts positive things.
27. "When you do something beautiful and nobody noticed, do not be sad. For the sun every morning is a beautiful spectacle and the most of the audience sleeps."
You don't do it for others, you do it for yourself!
28. "Every morning has a new beginning…"

Always make your day a great one because it is God's gift for a new beginning, blessing and hope.
29. "Never stop believing in hope because miracles happen everyday."
The moment you stop believing is the moment you give up. Never stop believing.
30. "You don't have to be great to start, but you have to start to be great"

In order to be great, the best thing to do is to start, you may not be good at first but eventually, time will come that you'll be great on it.
31. "Just Good Morning!"
32. "Rise up and attack the day with enthusiasm."

Be enthusiastic and look forward for a day full of new things to discover and a day with surprises.
33. "Yesterday is gone, tomorrow is a mystery, today is a blessing."
Yesterday and tomorrow are not in your control, be blessed for today.
34. "Mistakes increase you experience…"
Everybody commits mistakes and through mistakes we learn. Since we learn, we will know what is the right thing to do therefore it lessens our mistakes.
35. "Good Morning Sunshine!"
36. "Love the life you live; Live the life you love."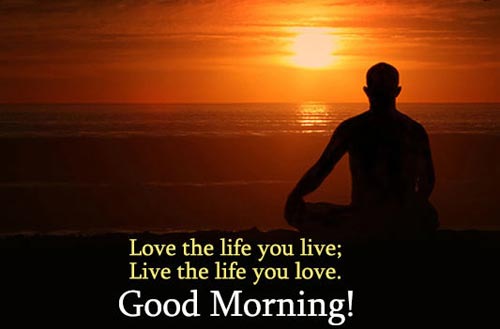 To enjoy life, you must love the life you have and live a life that you love.
37. "Life laugh at you when you are unhappy…"

A great quote by Charlie Chaplin. In life, making people happy is one of our purpose.
38. "Life always offer you a second chance. It's called tomorrow"
In life, every day is a chance to correct our mistakes.
39. "Good Morning! It's a brand new day…"
Treat everyday like it's the first day of your life.
40. "My plan for today? Same as always: drink coffee and be sexy."
41. "Dear past, Thank you for all the lessons…"
Painful past gives lessons and it is a preparation for something good in the future.
42. "When you wake up every morning…"

Did you know that a simple smile can change a person's mood? So, smile at yourself and everything will feel okay for you.
43. "I really need new clothes.. is me every morning."
44. "Wake up each day & Be thankful for life"

Every day is a new life.
45. "Hello, Good Morning! I hope you have a ridiculously amazing day!"
46. "The sun is up, the sky is blue, it's beautiful and so are you"
Just like the morning sky, we are all beautiful.
47. Good Morning Quotes for her: "The best thing about waking up is knowing you have another cup of coffee to enjoy"
It's great to wake up and still we can do the things that we usually do.
48. "Sunshine is the best medicine."
49. " Every sunset gives us one day less to live…"

Hope should always be in each and every one of us.
50. "Nothing is impossible when God is on your side"

Because with God, all things are possible.
51. "No matter how good or bad your life is, wake up each morning and be thankful that you still have one"

Always be thankful for every morning that you are given a chance to woke up.
52. "Mornings are gift of God"
Because mornings are new life to live with.
53. "A farmy Good Morning."
54. "If you want to make your dreams come true, the first thing to so is to wake up"

How can you fulfill your dreams if you won't be awake? So wake up and get up.
55. "God's greatest blessing is waking you up…"

This hoe marvelous God's blessing is, he always gave us second chances, chances to do the things we want to do, a chance to change and a chance to live and be happy.
56. "Puppies are the greatest blessing to waking you up…"
57. "Every morning starts a new page in your story"

Our life is like a book and everyday is a new page to write with.
58. "Every morning is a chance at a new day"

As what always being said, everyday is always our chance to live.
59. "Be willing to be a beginner every single morning"

Be a beginner, always start doing new things each day. Every good morning with good morning quotes;)
60. "Just the thought of you brightens up my morning."
Waking up next to you in the morning is a blessing and brightens my day.
61. "A little step may be the beginning of a great journey"
It is because great things and journey are done one step at a time.
62. "Life is a gift. Wake up every day and realize that."
63. "A day without laughter is a day wasted"
It is because life is all about us being happy.
64. "You've never lived this day before…"

Each day that will passed will never be back again, it only passed once.
65. "The purpose of life is to live it, to taste experience to the utmost…"

Life's purpose is living your life to its fullest.
66. "Open your eyes so the sun can rise, flowers can blossom because all are waiting to see your beautiful smile."

The world would love to see your smile.
67. "Morning would be better if I woke up next to you."
68. "Life is like a mirror: It'll smile at you if you smile at it"

Like a mirror, life would treat us the way we treat them. If we are good, life will be good on us.
69. "Let go of all the desire that hinders your progress and move towards your purposes"
Let go if the things that will hinder your progress as a person, because you can't move on to your purpose if you are stuck with these things.
70. "Each morning we are born again, what we do today is what matters most"

Past is past, the most important is how you deal with the present.
71. "Your future is created by what you do today not tomorrow"
The future would always start in the present, what we do today starts what we will be in the future.
72. "If you don't risk anything, you risk more"

Life is all about taking a risk. If you want to succeed, you must take a risk or else you gain nothing. Wake up with this morning quote to remind you every good morning!
73. "Be in love with your life. Every minute of it."

74. "The only difference between a good day and a bad day"

Your attitude will define how you'll face life's challenges. If you're positive, you can get through it.
75. "Live Laugh Love"

Three things to do in life with these good morning quotes: Live it, Laugh at it, and Love it.
76. "Life is beautiful one day, one hour and one minute will not come again…"
In life, every hour, minute and seconds counts. Once it passed by it will never come back again.
77. "Learn from yesterday, live for today, hope for tomorrow"

To have a better life, you must learn from the past, apply what you learned and hope for a better tomorrow.
78. "Chip up, sweetie. You're beautiful!"
79. "GOOD MORNING means…"

GOOD MORNING!!:)) This good morning message means: Good Morning!
80. "Every morning is a blank canvas… It is whatever you make out of it"
We are the one who creates our own life's work of art.
Funny Good Morning Quotes and Messages
81. "The only thing preventing me from smashing my alarm clock this morning is the fact that its my cellphone."
82. "Think in the morning. Act in the noon. Eat in the evening. Sleep in the night." — William Blake
83. "I always write 'WAKE UP' on my to-do list so I can at least accomplish one thing a day."
84. "I think that when you get dressed in the morning, sometimes you're really making a decision about your behaviour for the day. Like if you put on flip-flops, you're saying: 'Hope I don't get chased today.' 'Be nice to people in sneakers.'" — Demetri Martin
85. "In the morning a man walks with his whole body; in the evening, only with his legs." — Ralph Waldo Emerson
86. "Coffee: A magical nectar that turns: "leave me alone or die" into "Good morning, honey."
87. "Millions of trees in the world are accidentally planted by squirrels – who bury nuts, then forget where they hid them. Do good and forget. It'll grow some day."
88. "Everyone has highs and lows that they have to learn from, but every morning I start off with a good head on my shoulders, saying to myself, 'It's going to be a good day!'." — Lindsay Lohan
89. "Monday Morning must be a man, it comes too quickly!"
90. "The best foreplay starts with: Good Morning beautiful"
91. "Early morning cheerfulness can be extremely obnoxious." — William Feather
92. "There is no snooze button on a cat who wants breakfast."
93. "This morning I put Red Bull into my coffee maker instead of water and now I can see noises."
94. "The older generation thought nothing of getting up at five every morning and the younger generation doesn't think much of it either." — John J. Welsh
95. "Morning! The person you are trying to reach is out-of-body. Please try agin later, after I have my coffee."
96. "Never work before breakfast; if you have to work before breakfast, eat your breakfast first." — Josh Billings
97. "Coffee; because bad mornings deserve a second chance."
98. "Most people do not consider dawn to be an attractive experience unless they are still up." — Ellen Goodman
99. "We've learnt that a smile and good morning goes a long way, and saying thank you goes even further."
100. "Good Morning. You sexy beast."
Just like in any other relationships, be in love with your life and life will love you back.
"It's just a bad day, not a bad life".
"Life is like a mirror, when you smile at it, it smiles back at you!"